Looking for great InDesign alternative solutions has already become an interested and vital challenge for literally any designer. With the advancement in technologies, users can always find something better, more flexible, and simply less expensive to work with on Mac. So, people using a swift publisher as the best adobe alternative for mac, so let's start this Swift Publisher Review 2022 for our audience. 
So far, I entered the market in the role of a professional designer about three years ago. My personal searches for the best desktop publishing applications have led me to Swift Publisher.
Swift Publisher Review 2022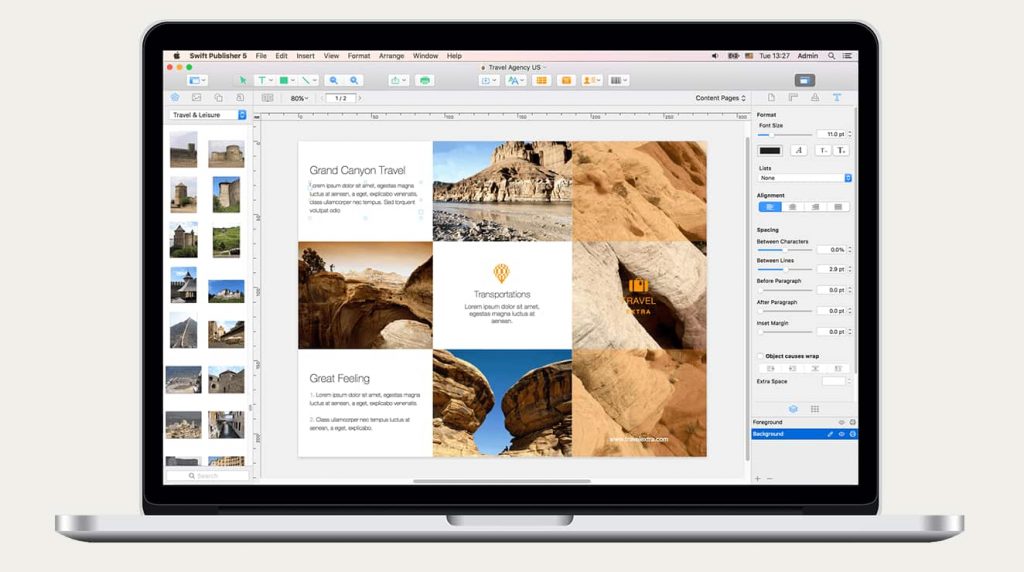 What Is Swift Publisher?
Whenever I need to create a decent design urgently, this program for Mac is a total lifesaver. Not only are there a lot of customizable templates, but also I can prepare my own presets to work with.
This desktop publishing software for Mac is distinguished with its multi-operational powers. Here are some of the features that can also draw your attention to the analyzed publishing product:
For newbies, this software is a great option. Taking into account that Swift Publisher is a wonderful InDesign replacement for Mac software, this feature is a must-have. In my humble opinion, the layout assists in self-education — the interface is clear, and the service provider has prepared several tutorials on how to use its features to the full extent.

Whatever project you want to create, the opportunity to create an unlimited number of editing layers, as well as customizable grids, is impressive. That makes my workflow smoother, enabling me to create complex and sophisticated images without ruining the proportion in sizing and objects' space orientation.

It is well worth the price largely thanks to an extensive design toolkit. The basics just can't be non-important. If you aren't able to create smart shapes, apply drawing tools, or use gradients, the bunch of more advanced features will be unnecessary.

This InDesign alternative Mac is capable of something more than 2D and 3D designs. The in-built page imposition features simplify publishing projects enormously. Besides, I am in love with the ability to pick up the right color palette. Choosing between CMYK and RGB, it isn't a challenge for me to comply with the printer settings and print the best material possible.
The program for Mac users is constantly self-developing. I have been happy to know that Swift Publisher will be soon compatible with iPad and iPhone platforms. You can't even imagine how much I am looking forward to giving a test on their performance capabilities.
This innovation will increase my own designer abilities, letting me work on the go and be versatile between different devices.
Advanced Features
In this review, I believe mentioning the features that distinguish Swift Publisher from other tools or alternative to InDesign Mac software is truly worth it.
Here is my list of top characteristics to adore the analyzed publishing tool for Mac:
With over one hundred image masks, shadows, and other design tools, it is a pleasure to create such layouts as flyers, brochures, business cards, and even CD labels. I can either import photos from my Mac folders or use the achievements of the in-built Swift Publisher gallery.

The functionality of Master Pages is manna from heaven. Instead of manually printing the page numbers, headers, or other elements in multipage projects, I can simply cope with the task in a few clicks. It saves a lot of time, you know.

Typography graphics tools are also outstanding. Swift Publisher stands out thanks to its integration with a professional application for 2D and 3D text effects, namely, Art Text.
More Related Guides:
Wrap It Up
A lot can be said about Swift Publisher. It isn't only a premium Indesign alternative for Mac — its independence as a strong trendsetter and valuable assistant in sophisticated projects is what I do love about the software under consideration. In future updates, I would like to see even more features, including photo remaking and retouching functions.
So far, it will certainly be a real bargain for interested parties.