An increasing number of parents are using modern tech solutions to track their children. Monitoring your kids using powerful child tracking apps usually comes in handy when you want to know where they've been and who they are talking to. In this guide, you will learn about Best iPhone Tracking Apps for Parents with the top 5 parent phone trackers. 
Best iPhone Tracking Apps for Parents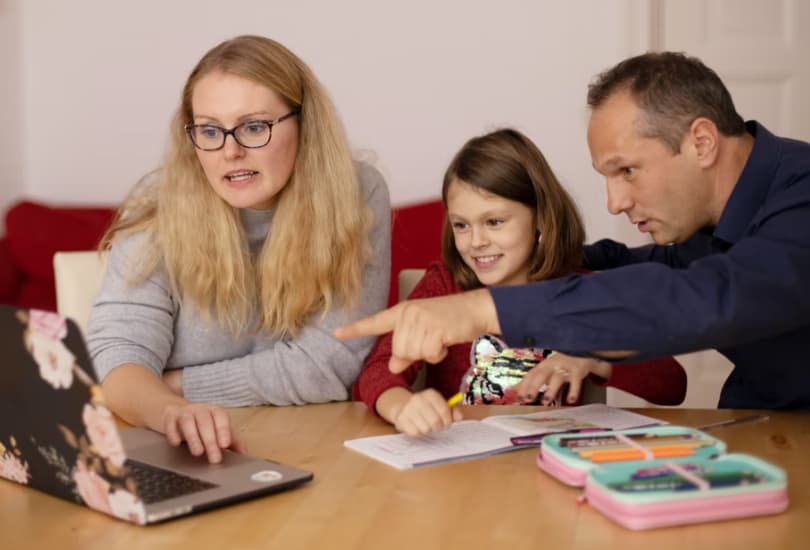 However, it's important to choose an app that meets all your specific tracking needs.
How to Сhoose a Quality Parent Phone Tracker?
If you're wondering "how to monitor my child's iPhone remotely", parental control is the solution. You should consider some key features when choosing the best child monitoring app. These include:
Pricing

. Your choice app shouldn't be overpriced. Rather, it should provide an array of affordable packages that suit your budget.

Remote support and installation assistance

. The best child tracking app should also have an impeccable technical support team that can provide remote assistance whenever you need it. If you encounter challenges installing the app, a support rep should provide easy-to-follow instructions.

Compatibility with different devices

. Ensure you choose a monitoring app compatible with both Android and iOS mobile operating systems.

Available features apart from GPS tracking

. As a parent, you want tracking software that not only provides real-time location monitoring but also delivers SMS messages, social media chats, and phone call recordings to help you know who your child converses with.

Ability to operate in stealth mode

. Ideally, you wouldn't want your kids to suspect that you're spying on them. Stealth mode allows users to track their target user's phone in complete secrecy. Check whether your favorite tracking app supports stealth mode operation before installing it.

Works smoothly without hindering the target device's performance

. Some spyware is notorious for adversely affecting people's phones. For instance, they might cause the battery to overheat and drain quicker or the phone to slow down and reboot unexpectedly. It's important to read reviews and learn whether a monitoring app works smoothly before purchasing it.
The Top 5 Tracking Apps for Parents
We've conducted some extensive research and tested the most popular child tracking apps that other parents recommend. Let's discuss them below.
1. eyeZy
eyeZy is one of the most effective apps to track kids today. This spy app can pinpoint your child's real-time GPS location, record phone conversations, and track emails, text messages, social media chats, and browser history. It also provides a geofencing feature and reveals all multimedia saved in their gallery.
Pros
eyeZy is discreet;

It provides all essential tracking features for parents;

It's easy to operate.
Cons
It's not free;

It requires physical access to your target device for installation.
2. mSpy
This remarkable kid tracker phone app is widely popular among parents. It has a GPS tracking feature that allows users to monitor their kids' live location on a map. mSpy also provides an impressive geo-fencing feature that alerts parents when their kids wander into dangerous zones or walk out of the established "safe zone."
In addition, mSpy can track your children's SMS messages, social media chats, call logs, and browsing history with ease.
Pros
It's affordable;

It provides a wide variety of helpful child tracking features;

Easy to install and operate.
Cons
You'll need physical access to the target device for installation.
3. FamiSafe
If you're looking to keep the entire family safe, FamiSafe provides some decent GPS location tracking features that help parents track their children in real time. Users can also set geo-fences and check their kids' location history. However, you'd still need to install this app on the target device. FamiSafe might also cause your child's phone to overheat and drain the power quickly.
4. Bark
You can monitor emails, SMS texts, social media apps, and more when using Bark. This handy kid tracker phone app operates in stealth mode to track your kid's online activity, assess their chats, and alert parents when it detects potential risks. Bark also has a built-in location tracker that helps parents monitor their children's movements.
5. Norton
Apart from tracking your kid's location, Norton also allows parents to set strict limits on their children's device usage. However, this tracking app has limited features and might not be the best choice for parents who want to monitor their loved ones' chats and digital history. In addition, its geolocation feature doesn't work in all countries.
Conclusion
As a parent, keeping your kids safe from online threats is paramount. Using the best child tracking app to keep tabs on your children's live location and chat history can help you keep them safe.
If you feel spoiled for choice, mSpy and eyeZy child tracking apps come highly recommended.