If you are facing various issues related to working or iPhone alarm, well just Tap on the link and get the step-by-step procedure to fix the iPhone alarm.
iPhone Alarm Not Working – How To Fix it?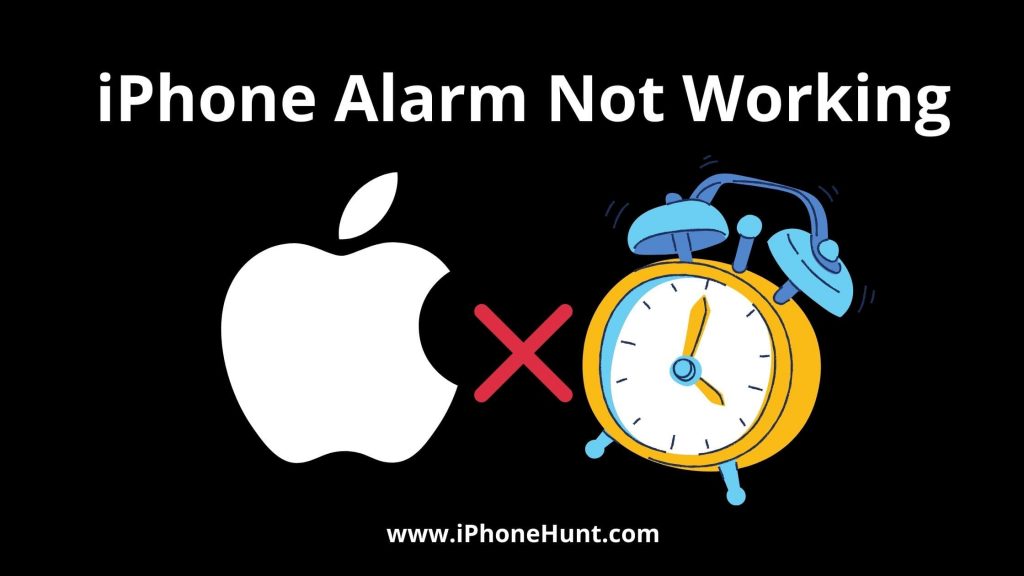 If you are facing the same issue and looking for a solution, well you have landed over the right place as here we will be providing The simple step of how to fix if iPhone Alarm is not working One of the most annoying things that can be experienced in the morning is alarm clock not going, and this irritation can lead to spoiling the whole day and Hence its effect is noticed in your work or in the daily activities.
Also Read: Red Dot on Apple Watch? What Does It Mean?
Also, the iPhone alarm not working can create unnecessary problems like miss an Appointment, lose your job, and issues can be experienced in all the morning Problems.
If you are also facing the same issue, you know I can understand your feeling. Just be patient and read the complete article in order to solve the issue in iPhone Alarm.
Let's Discuss How to Fix iPhone Alarm Not Working?
This article focuses on few solutions to fix your one of the most annoying issue of iPhone alarm not working, and hence you can start your day like before Without any stress and issue.
If You Often Oversleep through your Alarm – Method #1
Well! If you often oversleep through your alarm then you may face certain issues on your iPhone over your alarm. So, next time you should keep your alarm volume loud enough that you can wake up. Here are some of the steps with the help of which you can check out that your iPhone's volume is loud enough to wake you up.
Check Volume Level: Basically iOS has two different volume controls which are Media Volume and Ringer Volume. Media volume controls the volume of your app such as games, music, video, etc. On the other hand, Ringer Volume is used for notifications, ringers, alarms, and system alerts. So, in order to make sure that your ringer volume is loud enough to wake you up, you just need to follow the simple steps provided below.
Switch to the Home screen and use the volume control button to turn it
up before going to sleep for the night.
Keep in mind that, if the volume meter is labeled as "Volume", not
"Ringer", then you're adjusting the media volume.
Hence you need to go to the home screen and adjust the ringer volume.
You can also adjust the ringer volume from anywhere, it doesn't matter
you just need to be sure that your ringer volume is leveled up if it was
low enough to wake you up.
Check the Sound: The sound of the alarm can make a huge difference in how loud it is playing. To check if your alarm volume is working well, just tap on edit in the upper left corner, select the alarm that you wish to check, and tap on the sound option. From here you can choose any sound tone option that you think will wake you up instantly in the morning.
---
iPhone Alarm not working – Method #2
Check the sound
This should be the first thing you need to check while encountering this issue, Navigate to
Clock > Alarm > Edit > Sound
Just be sure that you have already set an alarm sound tone so that it will play in the morning.
---
Re-Create New Alarms – Method #2
You can delete all your alarms and create a new one. Well! This might sound a bit crazy but sometimes, this can be really helpful.
---
Reboot Your Device – Method #3
You can simply turn off your device and then turn it on again with the help of the Power button. Or you can also go for the soft reset to give your device and make a completely clean start.
Press and hold both the Power and Home buttons simultaneously for at
At least 10 seconds, until the Apple logo displays on the screen. You can let
Go of both the buttons as the Apple logo appears.
Then, your phone will go through the usual process of starting up.
As you are done by the restart you'll be back to your home screen.
---
Third-Party Alarm Apps – Method #4
In case you have set third-party alarm apps, then just remove the application, and restart your device. Check if the alarm is working later on. This happens due to the apps may conflict with the stock app present on your device.
---
Jailbreak Issues – Method #5
If your device is jailbroken, then there may be certain changes that your iPhone alarm might not work. The incompatible jailbreak tweaks may create certain issues with the alarm. The only solution to this is to disable the tweaks one by one, each time, visit the clock app, set an alarm for the next one minute to check if the alarm is working, and repeat the process until you find tweaks and remove it. If still, your alarm is not working, you can remove Cydia then jailbreak the device again.
---
Reset All Settings and Restore your Device – Method #6
In case you didn't find the exact solution till now, well you can skip to the next solution. In this, you need to factory reset your device, but it won't affect your photos, videos, app, or anything else. Just follow the steps provided below.
Settings > General > Reset > Reset all Settings
This will restart your device, and hence just check out if the alarm is working or not. Now, if you have reset all of your settings but don't perform the trick, then you just need to backup your iPhone and restore it using iTunes. As you have restored all of your data now you have to take a backup so that there won't be any further queries related to data.
---
Update Firmware – Method #7
In order to check whether the firmware is already installed on your iPhone, you need to follow the following process.
Setting > General > Software Update
If still, your iPhone alarm is not working then there must be some other issue, as upgrading firmware is not working out. Maybe there is a chance that unexpected bugs are present in the operating system. And if that is the only issue then, iPhone would certainly provide you an update to fix all of your problems.
---
Contact: Apple – Method #8
In case none of the above solutions is working out, then here you can go for the final solution. Just log on to the support website at www.support.apple.com/contact
Final Words:
We hope the above article is helpful in solving your issue of the iPhone alarm not working, we have provided various solutions to solve one of your major issues of the iPhone alarm not working. In case you are still facing any issue hit the comment section below, we will get back to you ASAP.