There are lots of Mac users who said that they are getting an AMPDevicesAgent popup message where they ask them to enter their keychain password. Basically that messages say that: 
"AMPDevicesAgent wants to use your confidential information stored in iOS backup in your keychain. To allow this, enter the login keychain password". 
What is AMPDevicesAgent?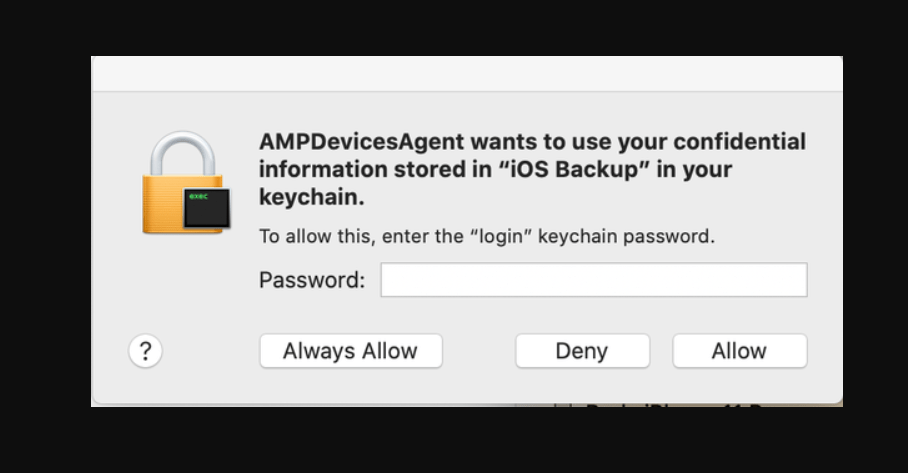 This message doesn't show that it was sent by Apple or it is any malicious software notification. Also, this notification asks the users to enter their password by which users are able to access their keychain where all their passwords and lots of private data such as credit or debit card information have been stored. If in case, the user refuses to enter the password then the pop-up will keep asking the password again and again till the user didn't enter the password. Also, there are lots of users who don't know why they need keychain access. So, users start facing some security issues and they provide AMPDevicesAgent access to your keychain account. 
Also Read: Drag and Drop Not Working Mac
AMPDevicesAgent? What is it?
Basically, AMPDevicesAgent is one of the new background processes which appears in the macOS Catalina and this error is completely responsible for synchronizing the iPads and iOS devices when they start using the finder app. Also, it is not malware but it is one of the parts of the macOS ecosystem. This function comes up from iTunes in the macOS Catalina and also these types of helper code divided into several processes such as the AMPDevicesAgent ios backup password. You just need to simply confirm this by getting into the activity monitor where you will see the apple process. Basically, it is located at: 
/System/Library/PrivateFrameworks.AMPDevices.framework
AMPDevicesAgent Wants to use Your Confidential Information 
You need to know that the AMPDevicesAgent macOS CPU only wants to use your confidential data which was stored as the "iOS backup" in your keychain. You just simply need to enter the password of your login keychain if you are willing to allow this. 
Also, this message only takes place when any of the AMP device agents in the macOS Catalina wants to attempt a local backup of all the connected devices on the Wi-FI when the option is enabled in the setting of the Finder app in your iOS device. Also, this iOS backup is one of the encrypted backups of your iOS device like iPad or iPhone. 
You need to know that the keychain password is your login password and if you are confused about what to enter in the keychain password column then simply enter your login password in the section of keychain password. 
Know More About This Error > Click Here
Hopefully, this article is helpful for you to get to know lots of information about the AMPDevicesAgent. Also, by this article, you will get to know about the methods by which you will get rid of this error. So, if this article is helpful for you and helps you to fix this AMPDevicesAgent BigSur error then simply drop your comment below so that we will get to know how helpful this article is for you. Also, don't forget to share this article with your friends and other iOS users so that they will also know the possible methods to fix this error in case they face any problem related to this.