Presenting Relocate Reborn iOS 15 App, an amazing jailbreak tweak developed to revolutionize the way you interact with location-based services on your iOS devices. 
This advanced tool permits you to effortlessly spoof your GPS location on iPhones and iPads running iOS 14 and iOS 15, providing you with exceptional control over how apps and services sense your location. 
Whether you want to access geo-restricted content, protect your privacy, or test location-based features in apps, Relocate Reborn offers a user-friendly and versatile solution that serves your requirements. 
In this article, we will discuss the alluring world of Relocate Reborn, exploring its features, installation process, and practical applications in detail.
Relocate Reborn iOS 15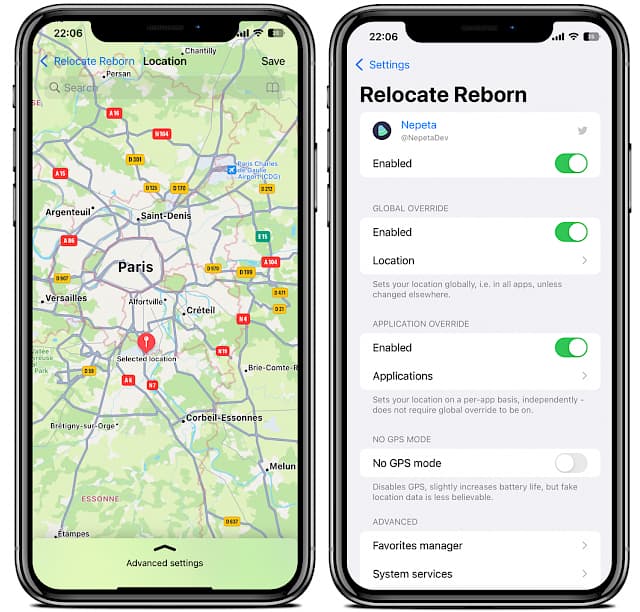 Relocate Reborn is an amazing jailbreak tweak that allows you to spoof your GPS location on iOS devices running iOS 14 and iOS 15. This tweak offers a plethora of possibilities, including location spoofing for all installed apps and system services such as Find My iPhone and Find My Friends. 
In this blog post, we will provide a detailed guide on how to use Relocate Reborn to change your GPS location, its features, and its compatibility with various jailbreak tools.
What is Relocate Reborn?
Relocate Reborn is a free jailbreak tweak and the successor to Relocate, which allows users to override their GPS location globally in the system or only in selected apps. 
Developed by NepetaDev, it is compatible with all jailbreak tools running iOS 13, iOS 14, and iOS 15. This tweak allows you to change your location in apps like Google Maps, Tinder, Find My iPhone, Find My Friends, and Badoo, and even set fake GPS locations for pictures taken with the Camera app.
After installation, Relocate Reborn works immediately and adds a new preference pane to the Settings app, allowing you to configure all available options. You can choose between global or application overrides, select a fake GPS location, or enable no GPS mode. 
The tweak works in two modes: Global and Application Override, allowing you to set fake GPS locations on your iPhone either globally for all apps or on a per-app basis.
Features of Relocate Reborn:
Supports system services, allowing you to spoof the locations of Find My iPhone and Find My Friends.

Built-in search to spoof specific GPS coordinates and change altitude.

Relocate Module available to toggle the tweak from the Control Center.

Works natively on your device without connecting to a VPN server.

The open-source project, with all files released through GitHub Repository under the MIT License.
How to Install Relocate Reborn:
To install Relocate Reborn on your iPhone or iPad, simply add the Relocate Reborn Repo (via dynastic repository) to your list of Cydia Sources and install the tweak. If the official repo is down, you can use the alternative repo provided by HackYouriPhone. Just follow these steps:
Launch the Cydia app from the Home Screen.

Tap Sources → Edit → Add the https://repo.hackyouriphone.org Repo URL.

Search for Relocate Reborn tweak in the newly added repo.

Restart the Springboard to complete the installation.

Tweak preferences will be available from the Settings app.

Alternatively, use the quick links at the top of this page to add the repository to your favorite package managers (Cydia, Sileo, Installer, Zebra) with just one click.
How to Change Location on iPhone using Relocate Reborn:
Setting up a fake GPS location using Relocate Reborn on iOS 14 and iOS 15 is easy. Follow these steps:
Install Relocate tweak from its Repository.

Navigate to Settings → Relocate Reborn.

In the section Global Override → Location.

Tap on the map to set fake GPS coordinates.

Tap on Save to apply changes.
What's New in Relocate Reborn:
Works on iOS 15 jailbreaks.

Added support for iOS 14.

Bug fixes and improvements.

Added satellite and hybrid view mode.

Better settings updates for the no GPS mode.

Fixed geofencing on iPhone.

Now supports "Find My Friends" and "Find My Device".

Included favorites GPS location manager for easy access to frequently used locations.
Additional Benefits of Using Relocate Reborn:
Privacy Protection: By spoofing your GPS location, you can maintain your privacy and prevent apps and services from tracking your actual whereabouts.
Accessing Geo-Restricted Content: Some apps and services may offer features or content based on your geographical location. Relocate Reborn allows you to access this content by setting your location to the desired region.
Testing Apps and Services: If you are an app developer or tester, using Relocate Reborn can help you test location-based features and services without physically traveling to different locations.
Alternative to Relocate Reborn for Non-Jailbroken Devices:
If your device is not jailbroken, you can use Bullfrog Assistant, an on-device tool that can simulate GPS location without a jailbreak. Bullfrog Assistant is compatible with iOS 15 and the latest iOS 16.
Compatibility with Recent Jailbreak Releases:
The recent XinaA15 Jailbreak for iOS 15.0 – iOS 15.1.1 has been released, and although Relocate Reborn has not been updated to support iOS 15, it works with the latest rootless jailbreak. This means you can set fake locations on iPhone XS, iPhone 11, iPhone 12, iPhone 13, and iPhone 14.
Also Check:
Conclusion:
Relocate Reborn is a powerful and easy-to-use jailbreak tweak that allows you to change your GPS location on iOS 14 and iOS 15 devices. 
With a range of features, including global and application overrides, system service support, and an open-source codebase, this tweak is a valuable addition to any jailbroken device. 
By following our detailed guide, you can easily install and configure Relocate Reborn to take full advantage of its location spoofing capabilities. 
Whether you're looking to protect your privacy, access geo-restricted content, or test location-based apps and services, Relocate Reborn is an excellent choice for all your GPS spoofing needs.