iPhone 14 vs iPhone 14 Plus – This year, there are four phones, each with a unique combination of features and two different sizes. The 6.1-inch iPhone 14 and 6.7-inch iPhone Plus both receive relatively minor changes this year.
Only the more potent and more expensive iPhone 14 Pro and iPhone 14 Pro Max offer the most eye-catching upgrades, such as an always-on display and the much-discussed "Dynamic Island" notifications UX.
iPhone 14 vs iPhone 14 Plus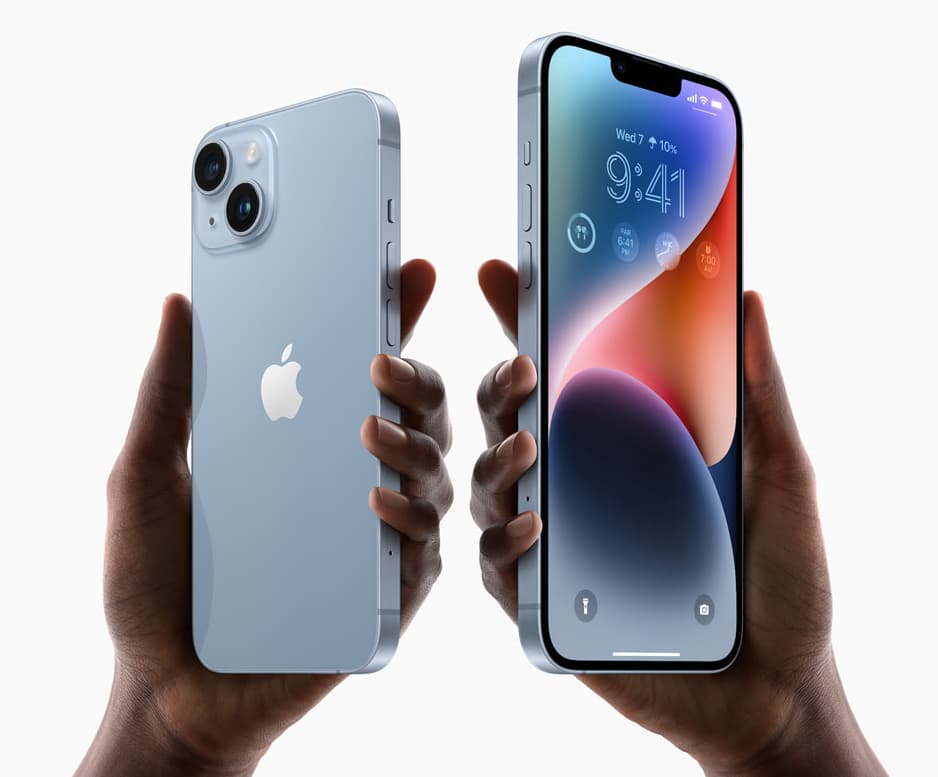 To help you decide which iPhone 14 is best for you if you are thinking about upgrading this year, we will go over the advantages of each model.
iPhone 14 Plus
A bigger version of the standard iPhone 14 is what the iPhone 14 Plus is. The majority of the internal parts and performance should remain the same, despite the relatively large 6.7-inch screen.
Battery life is the only notable internal improvement of the Plus. In comparison to a conventional iPhone 14, Apple predicts that the 14 Plus will have a battery life of up to 26 hours on a single charge.
Difference Between iPhone 14 Vs iPhone 14 Plus
Due to Apple's decision to replace the smaller iPhone mini size with the larger Max, the iPhone 14 VS iPhone 14 Plus comparison is brand-new this year. And that might significantly affect your purchasing choice.
The standard iPhone 14 is the same middle-sized iPhone with which you are undoubtedly already familiar. The iPhone 14 Plus will, however, provide a less expensive means of obtaining the same screen size as the iPhone 14 Pro Max without having to pay extra for its high-end features, such as an upgraded display or camera sequence.
If all you are looking for is the biggest iPhone screen and battery, the Max may be the best option for you even if the iPhone 14 Pro and non-Pro iPhones appear to be separated by a significant margin this year. The price of the iPhone 14 is expected to be 490,000 and similarly, iPhone 14 Plus price in Pakistan will be around 450,000.
Since there has not been much of a shift from year to year, we only suggest the iPhone 14 and 14 Plus to those who need a new iPhone but don't want to spend more money on the Pro or Pro Max.
This is because their existing phone may be broken or too old to update. Although the iPhone 14 Plus has a little advantage in terms of battery life, ultimately your preference for screen size will determine which device you choose.
The new iPhone 14 Plus Sale Date
The iPhone 14 Plus sale already started on October 7th, and the regular model is currently available. So, should you hold until the larger-screened model or is the iPhone 14 sufficient now?
We can consider that question now that Apple has unveiled all the information regarding the iPhone 14 series. The design, cameras, performance, and battery life differences between the iPhone 14 and iPhone 14 Plus will be discussed here.
Once we get our hands on a Plus, we will update the article with further information and our thoughts. You may still read more about the iPhone 14 family on our website because we also have all the other variants.
Briefly Comparing the iPhone 14 and iPhone 14 Plus:
iPhones in regular and larger sizes (6.1- vs 6.7-inch screens).

Identical colors and design language.

Because the Plus has a bigger battery, it has longer battery life.
iPhone 14 Series
The iPhone 14 series supports the "Photonic Engine," a new AI-enabled camera function that enhances color accuracy and overall image quality in low-light situations. The transition in the US from physical SIM cards to eSIM and the precise screen sizes are two further similarities among the iPhone 14 series (6.1-inch and 6.7-inch).
Available at Stores 
Going to an online store mobile phone store or your local Apple Store and big-box electronics retailer and picking them up is the simplest approach to determine which size is ideal for you.
Also keep in mind that the larger iPhone 14 Plus and iPhone 14 Pro Max versions have larger batteries and offer more room for online browsing, gaming, and video watching.
iPhone 14 with Dynamic Features
We believe that this year is a great time to forego purchasing an iPhone standard in favor of a Pro model. The basic iPhone 14 and iPhone 14 Plus don't necessarily need an upgrade unless you absolutely need a new phone.
They have a modified version of last year's CPUs and only a few noteworthy hardware upgrades. While this is happening, the iPhone 14 Pro and Pro Max offer some very interesting updates, both significant and subtle, such as an always-on display, Dynamic Island, and a new set of cameras.
Although early pre-order numbers are a little low, we're excited about how the iPhone 14 Plus might tap into a new, wealthy market of potential customers. However, for the time being, we can compare the smaller iPhone 14 and the larger iPhone 14 Plus.