Difference between Spotify and Spotify Premium – Spotify, the famous music streaming service, has assembled an extensive user base worldwide and is famous for its broad range of features and music selections that serve nearly every taste. 
So, do you know is Spotify premium worth it or not, let's find out.
Difference Between Spotify and Spotify Premium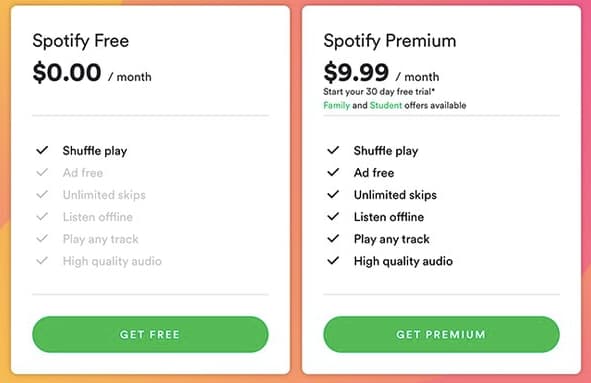 Nevertheless, it might available in a surprise to many that there are two versions of Spotify available: 
We are trying to provide a complete understanding of the differences between the two, helping you to choose the version that fits your specific needs in this post.
About Spotify FREE
Spotify is a free music streaming service that provides you with the capability to listen to music on demand. With its comprehensive library of songs, you can browse and search for your favorite tracks, artists, and albums, and create playlists. 
Additionally, you can share your playlists with others or follow other users' playlists. 
Spotify also provides customized playlists based on your listening histories, such as Discover Weekly and Daily Mixes. Nonetheless, as with any free service, there are some restrictions. 
For instance, you cannot download songs to listen to offline, and you will listen to ads every few songs.
About Spotify Premium
Spotify Premium is a paid subscription service that provides all the features of Spotify and some extra advantages. 
Along with Spotify Premium, you can listen to music offline by downloading songs and playlists to your device. 
You also get unlimited skips, so you can skip as many songs as you like without any restrictions. Additionally, there are no ads in the middle of songs, making for a more uninterrupted listening experience. 
Spotify Premium also provides higher-quality audio, with up to 320kbps, compared to Spotify's 160kbps.
If you are a student or can't pay for the premium version of Spotify, then you can try Spotify++ iOS 15 IPA file for your iPhone or iPad and you can use premium Spotify features for free.
Comparison Between Spotify and Spotify Premium
When it comes to features, Spotify and Spotify Premium share most similar functionalities, such as searching and browsing for songs, creating playlists, and following other users. 

The primary distinction between the two is that Spotify Premium provides more options to improve the user experience, such as offline listening and higher-quality audio. 

However, these additional features come at a cost. The monthly fee for Spotify Premium is $9.99, while Spotify is free of cost.

In the case of user experience, Spotify Premium provides a more seamless listening experience without any interruptions. 

Without ads, unlimited skips, and the capability to download music for offline listening, you can enjoy your favorite music without any interruptions or distractions. 

In contrast, Spotify's free version may be sufficient for those who don't mind ads and don't need offline listening.
Conclusion: 
In conclusion, both Spotify and Spotify Premium provide great ways to enjoy your favorite music. The choice between the two versions relies on your choices and requirements. 
If you don't mind ads and don't need offline listening, then Spotify's free version may be sufficient. 
Nevertheless, if you want a more seamless and uninterrupted listening experience with extra features, such as offline listening and higher-quality audio, then Spotify Premium is the way to go. 
Finally, it's up to you to choose which version is worth the buy according to your requirements.